The first European Major of the Rocket League Championship Series (RLCS) Season X has concluded – and UK teams and talent put in a good effort.
However it was Swiss org Team BDS that won the final in stunning fashion, beating perennial European titans Renault Vitality 4-2 and taking home $40,200 and 702 points.
Scottish commentator Johnnyboi_i said on stream that "Team BDS look like the best team in online Rocket League right now".
#RLCS FALL MAJOR CHAMPIONS!!!!! #BDSPOWER@Extra_RL @M0nkeyM00n @MaRc_By_8 @KaelThx pic.twitter.com/abz1dUmSjW

— Team BDS (@TeamBDS) October 24, 2020
However, the UK & Ireland were well represented with a host of talent and teams participating in the event.
In particular, UK side Endpoint and Galaxy Racer made it to the semi-finals of the Fall Major, with the latter side having English player eekso and coach AndytheMandy.
Endpoint has been a slightly difficult team to properly judge, as their results have been up and down throughout Fall. During the Swiss Stage for this Major, every one of their series ended 3-2, but against British powerhouses Top Blokes in the playoffs, they won 3-1 in one of the craziest games.
🚨 BUZZER BEATER 🚨@virtuosoRL strikes as @TeamEndpoint wins one of the craziest #RLCS games of the season!

📺: https://t.co/PpKjSDWZR1
🚀: https://t.co/YaSObt9CJg pic.twitter.com/k5xAY63L6A

— Rocket League Esports (@RLEsports) October 24, 2020
Top Blokes will definitely be disappointed as they were projected as at least a top 4 team in the circuit, and will be looking to bounce back strongly.
Endpoint fell 4-0 to Vitality in the first semi-finals match, while Galaxy Racer threw away a lead to lose 4-3 to Team BDS in the other.
Galaxy Racer's defeat was arguably more heartbreaking than Endpoint's, due to the manner of their defeat. Playing against one of the strongest teams in EU, they were inches away from causing the upset of Fall, taking BDS all the way to seven games and into extra time.
They even started off with a bang, with eekso contributing a stunning solo play. But it was not meant to be.
UK Rocket League caster/streamer Stumpy caught this moment displaying how close Galaxy Racer were to scoring in Game 7 against BDS:
This is how close @galaxyracerdxb were to scoring that first goal in Game 7 #RLCS pic.twitter.com/lieNSc39rs

— stumpy 🙂 (@StumpyGoblin) October 24, 2020
Other UK talents in the Fall Major Top 8 included:
Deevo (Barcelona)
FlamE, archie and RamS (Top Blokes)
Tadpole and bluey (Triple Trouble)
With the Fall Major done, all teams can rest and look forward to the start of the upcoming Winter Season, which begins with The Grid's Open Qualifiers starting on November 9th, while the Regional Event dates are yet to be announced.
North America is the last region to finish their Fall Major, which concludes today (October 25th). Alpine Esports – who are in the playoffs – feature two talents from the UK as well, with substitute creamz and coach miztik on their roster. They face Team Envy for a shot at making Top 4.
'The BDS loss was extremely heartbreaking, but we're putting so much work into becoming the best' – AndytheMandy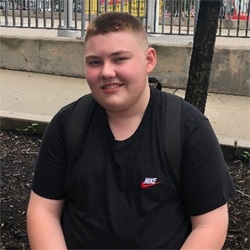 We speak to Galaxy Racer's UK coach AndytheMandy for his thoughts on his team's performance and what's next
"Coming into the Fall Major, we knew our recent results and performances were something to be proud of, but we wanted to make sure we were not settling for top 8.
We did loads of work together as a team and made sure we were putting the hours in to try and beat teams like Renault Vitality and Team BDS. I feel that this work and style that we adapted gave us some sort of success on this, with us beating Vitality in the swiss stage of the major and taking BDS all the way to game 7.
As for expectations, I think top 8 was a must coming into the major, but we always wanted to push it further and possibly win the tournament. Don't get me wrong – top 4 is nothing to be ashamed of. In fact, we are all really happy with the result, we just felt we proved to ourselves that we are good enough to win events.
The BDS loss was extremely heartbreaking in the manner that we lost, to have 3 games up on that team… only requiring one more game is a tough pill to swallow.
"We have seen so much improvement over the last month or so and we think we can keep it going. We have the work ethic, the motivation and certainly the skill. Why rest for second best? We all want to be the best."
But there are a few key things to remember, such as that being our first ever best of 7 match in the RLCS as a team, whereas the likes of BDS have played those every single regional.
The one thing me and the players are aware of is that we could have done better to finish that series off, but to give BDS their credit, when they got going they were truly something special. The fact it was only 1 goal is still going to be upsetting, and the fact that we managed to keep that game 7 close after losing a few games in a row is something to be appreciated and admired, rather than a negative.
Going into the winter split, only one thing is on our mind and that is winning an RLCS event like The GRID, one of the three regionals, or even the Winter Major should we qualify. I know that my team is going to be putting so much work into becoming the best.
We have seen so much improvement over the last month or so and we think we can keep it going. We have the work ethic, the motivation and certainly the skill.
Why rest for second best? We all want to be the best."